Chocolate Shop And Café In Mount Eliza
THIS BUSINESS IS NOW SOLD
Got a sweet tooth? Ever dream of being surrounded by exquisite handmade and imported chocolates where you can make the decisions on what to buy and when to eat them! That is one of the benefits you'll have when you become the new owner of the delightful Fika and Coffee Chocolates in Mount Eliza Village next to Port Phillip Bay.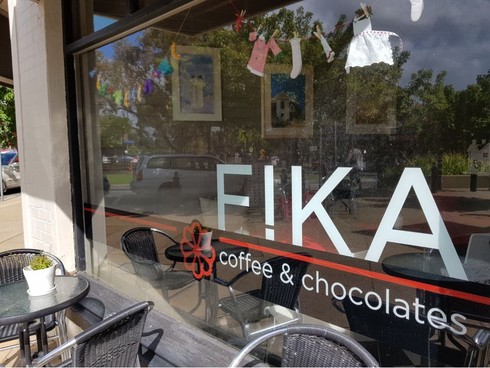 Fika Coffee and Chocolates is an inviting café and retail outlet and has a proud history of providing solace and secret indulgence to locals and tourists alike. Situated on a main road close to the village green (a popular venue for the monthly Farmers' Market) the café seats up to 30 customers inside and on the large terraced outside paved area.

Opening hours are from Monday to Friday from 9am - 5pm and Saturday from 9am - 2pm (also open on the 4th Sunday of each month for the Farmers' Market). The menu is uncomplicated fare with toasties, scones, iced coffees and chocolates, gluten free bread and cakes - and of course a delicious range of coffee varieties. As well as a wide range of loose and boxed chocolates, coffee aficionados are treated to a huge selection of take home coffee beans.
The shop is approximately 70 square metres with an outside yard and rear entrance. Split system air conditioning and hot water system are included. The price includes all antique cabinets, counters and shelving. Rent is $2,300 per month plus outgoings. The current three year lease finishes June 2018 with another 3 year option in place.

Easy to manage, the shop will suit owner operators who appreciate the lifestyle benefits of running a business in fashionable Mount Eliza, just five minutes from the beach and enjoying all the attractions of the beautiful Mornington Peninsula.

Price: $85,000 + SAV

For enquiries and an inspection, with an opportunity to speak to the owners, please contact Alan Maguire, Maguires Real Estate, Mornington (0418 377 038).