Unique Pre-Loved Consignment Clothing Store in Busy South Yarra
THIS BUSINESS IS NOW SOLD
From the moment you stand outside this clothing shop and realise the significance of the name - Stop Staring! - you know you have stumbled onto something different. Located on busy Toorak Road, South Yarra opposite the Como complex, the business collects and sells consignments of hand-picked high-end pre-loved designer items.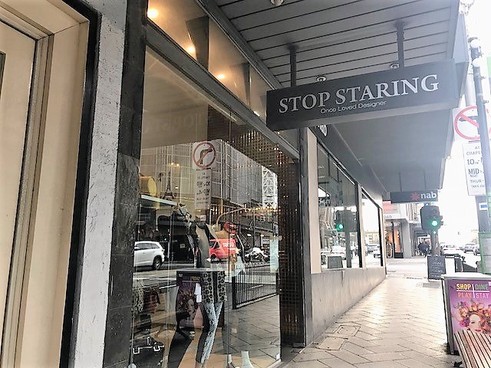 Stop Staring is an extremely popular and successful business with a strong turnover and healthy net profit. The formula is successful because of its simplicity. All stock is on consignment; the business does not own the stock. Consignors bring in their designer clothing (maximum 3 years old). The shop owner assesses the items and offers a 'buyout price' for each item, which is the amount received by the consignor after each item sells.

Items are held on consignment for 28 days, after which time the price of what hasn't sold (including the 'buyout' price) is reduced by 50% each month until all items are sold. Only a certain list of brands are accepted in order to maintain the prestige of the shop, for example, Burberry, Cartier, Chanel, Calvin Klein, DKNY, Dolce & Gabbana, Givenchy, Giorgi Armani, Hermes, Prada, Stella McCartney etc.
What do you get as a buyer of this business? No. 1 you don't get to pay for stock; on purchase of the business any stock can either be returned to the consignors or, if you decide to retain the stock, the outstanding consignments will be adjusted on settlement and the purchaser can take over the consigned stock. Of course you will also benefit from the loyal customer and consignor base and all shop fittings and equipment (valued at approx. $50,000).

The owner (who is a sole trader and does not need to employ staff) is reluctantly selling to concentrate on starting a family and returning to legal practice. However, she will provide all required training and handover to the new owner prior to settlement. The shop currently opens a family friendly four and a half days a week from Wednesday to Sunday from 10:30am - 5pm but there is plenty of potential to open longer days or more days and to take advantage of popular late night shopping in the local area. Alternatively the business is also highly suitable and would be complemented by a greater online presence.

Rent is $1330 (approx.) per week including GST and there is a 3 x 3 lease term in place. Other features include two changing rooms, kitchenette and toilet, shower and hot water service. There is an access lane at the back of the shop for deliveries. Best of all the 60 square metre (approx.) ground floor is complemented by a 50 square metre (approx.) private mezzanine level, currently being used as a studio apartment and office/storage space but with multiple potential uses, including even a yoga studio!

So, if you can see yourself working with great product in a highly fashionable part of Melbourne, surrounded by wealthy customers and expanding the potential of the business then give Alan Maguire a call and arrange to inspect the premises and meet the owners to discuss the business.

Price: $120,000 including all plant and equipment

For enquiries and an inspection, with an opportunity to speak to the owners, please contact Alan Maguire, Maguires Real Estate, Mornington (0418 377 038).