Café to Melt your Heart in Mt Eliza
THIS BUSINESS IS NOW SOLD
Mt Eliza Melt Room has been melting hearts and satisfying young and old tummies in the bayside town of Mount Eliza for the last three years. Situated prominently in the village centre in a high traffic area and opening from 6am each weekday morning the business attracts early morning tradies, school mums and local business owners and staff.
With a delightful menu that includes hot toasted sandwiches of all varieties, cakes, muffins, house-made biscuits, good coffee and their famous 'extreme shakes' and waffles, Mt Eliza Melt Room has built up a solid reputation and an ever increasing turnover. Friendly and competent staff members provide a safe, warm and welcoming environment which runs profitably under management.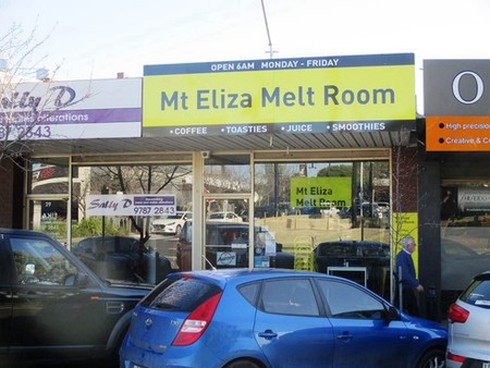 The premises include 80 square metres (approx.) of space inside and another 20 square (approx.) rear courtyard space with rear access, plus front pavement al fresco dining and its own toilet and basin for customers and staff, all at a moderate rent of $3640 p.c.m. (approx.). Plant and equipment feature fridges, freezer, kitchen dishes, cutlery and utensils and display cases which will allow you to continue the business as is or you can choose to adapt it to your own particular style.

Current opening hours are 6am - 2pm Monday to Friday and 7:30am - 2:30pm Saturday the business has family friendly hours and may be suitable for a couple of persons with school-age children or seeking a retirement activity or income. Opening the café for longer hours or on a Sunday would provide added income, especially on Mt. Eliza Farmers' Market days.
The vendor has told me she wants a quick sell as she is moving out of the village to another location and a new business venture and has priced the café accordingly.

Price: $49,000
Reduced from $59,000

For enquiries and an inspection, with an opportunity to speak to the owners, please contact Alan Maguire, Maguires Real Estate, Mornington (0418 377 038).